Speakers
Meet the inspiring speakers who will join us at Startup Yale 2019.
My Africa: Reimagining Chinese Development
Elvis Acheampong, Yale School of Forestry and Environmental Studies
Elvis Acheampong is a second-year Master of Environmental Management student at the Yale School of Forestry and Environmental Studies focusing on corporate environmental sustainability, industrial safety, and environmental law and policy. He is interested in environmental compliance and safety in the mining, oil, and gas industries in the Americas, Asia, and West Africa. Elvis works for Yale's Center for Industrial Ecology as a Research Fellow and is a teaching fellow for the Comparative Environmental Law course. Last summer, Elvis served as a conservation science intern in the Alberta office of the Yellowstone to Yukon Conservation Initiative (Y2Y), a joint Canada-U.S. non-profit that connects and protects habitats that cross national boundaries. Prior to Yale, Elvis worked as Environmental Health and Safety Specialist for Endeavor Mining's Nzema Gold Mine in the Western Region of Ghana, West Africa.
Grace Kyallo, Yale College
Grace Kyallo is a second-year student at Yale University studying Architecture and African Studies. Grace was born in Kenya and grew up in San Diego, California. Her dual identity fuels her passion for studying East African development at Yale. On campus she served as the Social Chair for the Yale Black Women's Coalition, membership coordinator for the Black Student Alliance at Yale and is currently co-president of Students of the Diaspora, a Yale undergraduate student organization that aims to unite the spectrum of experiences within the African Diaspora. At Tsai CITY, she is a Social Entrepreneurship Student Coordinator who hopes to engage innovation and entrepreneurship centers in partnerships that foster an entrepreneurial synergy at Yale University. As a student advisor for the Student Advisory Group on Diversity, Equity, and Inclusion, she aspires to ensure that all of Yale University is a safe space for students of color on campus.
Eddie Mandhry, Director for Africa at Yale University
Eddie Mandhry is Director for Africa at Yale University. Working out of Yale's Office of International Affairs, Mandhry is responsible for supporting the university's Africa initiatives by working with faculty to develop strategic partnerships between Yale and African institutions in the private and public sectors, and supporting recruitment activities around the continent. Prior to joining Yale, Mandhry was the associate director of NYU Africa House, an interdisciplinary institute focused on economic development research and political and social trends around Africa. He has previously served on the Board of Trustees of the Carnegie Council for Ethics in International Affairs. He holds a BA in political science/African studies from Hampshire College, and a MSc. in international relations from the London School of Economics.
Mfundi Makama, Yale School of Public Health
Mfundi is excited by the role of business, IT, and policy in improving healthcare quality and outcomes in Africa. Before joining Yale, Mfundi was part of Heidrick & Struggles, where he worked as a management consultant. His main responsibilities included working with Merck's Office of Corporate Responsibility, where he administered and refined two of Merck's philanthropic programs that had a strong presence in Africa. Mfundi is currently pursuing his Master of Public Health, focusing in Healthcare Management, at the Yale School of Public Health. He holds a BA in Biochemistry and Neuroscience from Wesleyan University.
Tes Myrie, Yale School of Forestry and Environmental Studies
Tes Myrie is a second-year Master of Forestry student at the Yale School of Forestry and Environmental Studies and an MBA student at the Kenan-Flagler Business School at UNC-Chapel Hill. His focus is on natural resource investment management in developing countries and underserved rural communities of the United States. Prior to Yale, Tes owned his own consulting company that represented clients in commodities transactions, predominately oil and gas. After graduation, he hopes to research sustainable timber management strategies that promote generational wealth-building infrastructure while also cultivating public-private partnerships within Mozambique's forestry industry.
Sarah Omusula, Yale School of Forestry and Environmental Studies
Sarah Omusula is a second-year Master of Environmental Science student at the Yale School of Forestry and Environmental Studies. Her current research appraises the Kenyan compensation scheme on human-wildlife conflict to assess its effectiveness, seek alternatives to minimize conflicts, and improve livelihoods. During the past summer, Sarah worked with Kenya Wildlife Service around Tsavo West National Park and with the Mbirikani and Big Life Foundation in Amboseli Kenya. Prior to Yale, she worked with Actions for Cheetahs in Kenya (ACK), a non-profit dedicated to understanding cheetah health and habitat; raising awareness on predator conservation through community participation; and mitigating human wildlife conflict to safeguard community livelihoods. She is a chapter contributor to Cheetahs: Biology and Conservation: Biodiversity of the World: Conservation from Genes to Landscapes. Sarah has a B.Sc. in Wildlife Management from the University of Eldoret in Kenya. Through her work, Sarah hopes to inspire people to appreciate wildlife and support efforts to conserve them.
Miye Oni is a junior political science major at Yale University. Miye is deeply tied within Yale's African community, formerly serving as a board member for the Students of Diaspora. He was heavily involved in bringing the #Unfiltered campaign and No More Names initiative to Yale's campus. Miye is currently a member of the Yale Men's Basketball Team and uses his platform to mentor youth in both the New Haven and Los Angeles areas.
Jing Tsu, Professor of Chinese Literature and Comparative Literature at Yale University
Jing Tsu is a literary scholar and cultural historian of modern China at Yale University. She is the first person to be tenured and become Professor of Chinese Literature and Comparative Literature at Yale. Tsu is Chair of the Council on East Asian Studies at the MacMillan Center for International and Area Studies, and also teaches various courses, such as "China in the World" and "Asia Now: Human Rights, Globalization, Cultural Conflicts." Her research spans a diverse array of disciplines--from literature to science and technology to foreign policy, and she has won numerous fellowships and honors, including from the Center for Advanced Study in the Behavioral Sciences (Stanford), the Radcliffe Institute for Advanced Study (Harvard), the Institute for Advanced Study (Princeton), the John Simon Guggenheim Foundation, and more.
WE@Yale Summit | Disrupting Innovation: Leading with Knowledge Equity
Chyrell D. Bellamy, PhD, MSW, Associate Professor of Yale School of Medicine's Department of Psychiatry, Program for Recovery and Community Health (PRCH), Director of Peer Services/ Research, and Acting Director of the Office of Recovery Community Affairs
Chyrell D. Bellamy, PhD, MSW is an Associate Professor of Yale School of Medicine's Department of Psychiatry, Program for Recovery and Community Health (PRCH) and serves as the Director of Peer Services/ Research. Dr Bellamy is also the Acting Director of the Office of Recovery Community Affairs, appointed by the Commissioner of the Department of Mental Health and Addictions Services. She has experience as a frontline service provider, community educator and organizer, and as a community and academic researcher. Dr Bellamy's expertise includes developing and conducting community-based interventions and research initiatives; and, involving and partnering with community, specifically with people living with mental illness, addictions, trauma, and HIV. Her research examines sociocultural experiences and pathways to recovery in prevention and treatment. Dr Bellamy and colleagues recently completed research funded by PCORI: "Increasing Healthcare Choices and Improving Health Outcomes among Persons with Serious Mental Illness". She currently has a NIH NIMH R34 award: "Peer Wellness Enhancement for Patients with Serious Mental Illness and High Medical Costs". She is also Co-PI with Dr Ayana Jordan of Yale Psychiatry, on the Imani Breakthrough: A Faith-based Response to the Opioid Crisis, a DMHAS funded State Opioids Response grant awarded by SAMHSA. In her capacity as Director of Peer Services and Research she provides instruction on peer curricula development and training based on her research and practice experience with peer employees since 1993 (beginning with women living with HIV); training of peers to conduct research; research and evaluation on the effectiveness of peer support; and leadership training for people with lived experiences, via the LET(s)LEAD: Lived Experience Transformation Leadership Academy. Dr Bellamy received her PhD in the Joint program in Social Work and Social Psychology from the University of Michigan and her MSW and BA from Rutgers University. She did a Post-Doctoral Fellowship at the Center for Mental Health and Criminal Justice Research at Rutgers University.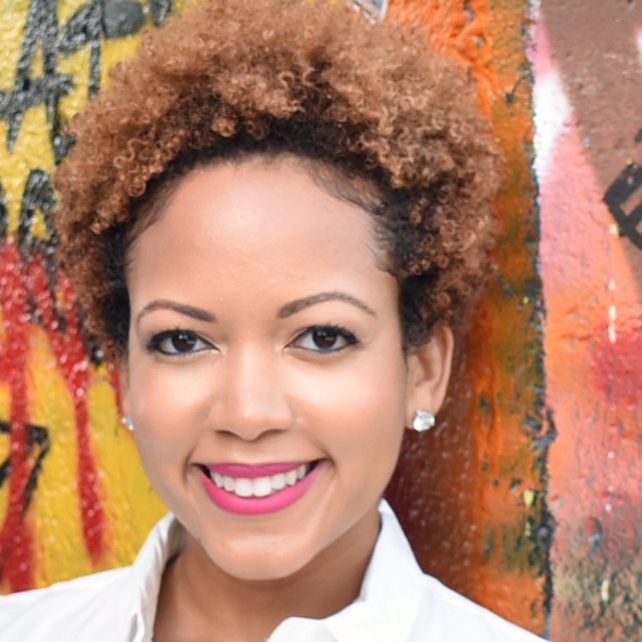 Alysia Nicely, Founder + CEO of BEAUTY IN COLOR and Entrepreneur in Residence at digitalundivided
Alysia Nicely is an award-winning multicultural strategist, brand builder, and entrepreneur on a mission to revolutionize the consumer goods landscape and empower underrepresented entrepreneurs. Alysia is the Founder + CEO of BEAUTY IN COLOR, a B2B e-commerce platform she created to help retailers meet the needs of the Black and Latinx shoppers who drive the $525B global beauty industry. She is an alumna of digitalundivided's prestigious BIG Incubator and now helps Black and Latinx women build startups as an Entrepreneur-in-Residence for the organization. Alysia began her career at Target headquarters in Minneapolis where she oversaw retail supply chain for a multi-million dollar business and served on Target's Multicultural Beauty Advisory Council. She went on to lead marketing teams, create national advertising campaigns, and spearhead entertainment partnerships for iconic brands like Cheerios as a Marketing Communications leader at General Mills.A proud Miami native, Alysia earned both her B.S. in Advertising and M.S. in Management from the University of Florida. Alysia now resides in Atlanta, GA with her husband and toy poodle.
Lori Robinson,
Founder of VidaAfrolatina and 2018 Echoing Green Global Fellow
VidaAfrolatina seeks to provide healing experiences for survivors of sexual violence and to reduce the incidence of sexual assault and abuse. VidaAfrolatina provides grants for Black Latin American women's groups, and hosts small convenings of survivors, organizers, activists, and healers to facilitate innovation and collaboration. VidaAfrolatina works to amplify the voices and work of grantee partners. The goal is to create culturally specific programs and practices that both increase Afro-Latin American survivors' access to healing support and cultivate social change. Lori Robinson is co-founder of VidaAfrolatina. A rape survivor, Lori worked for many years as a journalist, winning awards for her coverage of sexual assault. She is the author of I Will Survive: The African-American Guide to Healing from Sexual Assault and Abuse. She has also reported extensively about Afro-Latin Americans. She has worked in, studied in, or visited nine Latin American countries and is fluent in Spanish. In 2017, she began co-organizing events centering on Afro-Latina women, through which a U.S.-based peer network is developing. Previously, Lori served on the board of When and Where I Enter, Inc., a Houston-based nonprofit that gives grants to Black women's organizations in Latin America.
Virginia Spell, Vice President, Director - New Haven Program & Services for the Urban League of Southern Connecticut and 2019 Yale Neighbor in Residence
Virginia Spell is currently the Vice President, Director - New Haven Program & Services for the Urban League of Southern Connecticut. With more than twenty-five years of nonprofit management, Mrs. Spell is passionate about creating stronger communities through training, education and developing community leaders. Since attending Southern Connecticut State University, Mrs. Spell has focused on economic empowerment activities for individuals and families in living in Fairfield and New Haven counties. Mrs. Spell is a graduate of the Graustein Community Leadership Program, the Community Foundation of Greater New Haven Leadership Training, and the Greater New Haven Chamber of Commerce Executive Leadership Training. Mrs. Spell's commitment to community service is extensive, she currently serves as President of the West River Neighborhood Services Corporation; Chairs the West River Neighborhood Revitalization Zone, and is the Vice Chair of the Board of Directors for Continuum of Care. She also serves as the Chairperson for the United Nations International Day of Peace at the West River; and serves as a stakeholder in the Route 34 Corridor Redevelopment Project. Mrs. Spell is also an active member of the West River Community Resilience Team.
Panel: "I didn't get it, but I did it anyway."
Zoë Geller, Founder and Chief Culinary Officer, Zoni Foods
Zoë Geller is the Founder and Chef Culinary Officer at Zoni Foods. Zoni's vision is to help people live healthier, happier lives and preserve the health of our earth. We make and sell tasty, plant-based frozen food to natural food stores in New England. She is in charge of sales, marketing, fundraising, production, and logistics. Before attending Yale FES and SOM from 2014-2017, Zoë worked for a local food distributor startup and taught environmental education in Philadelphia as part of Americorps.
Sam Teicher, Co-Founder and Chief Reef Officer, Coral Vita
Sam Teicher is the co-founder and Chief Reef Officer of Coral Vita, a company that grows corals to restore dying reefs. It was launched out of the Yale School of Forestry & Environment Studies (F&ES) with his fellow master's student Gator Halpern, with support from the former Yale Entrepreneurial Institute. Coral reefs sustain 25% of marine life and up to one billion people globally while generating $30 billion annually through tourism, fisheries, and coastal protection. But more than half the world's reefs have perished in the past few decades, and over 90% are projected to die by 2050. Coral Vita integrates breakthrough methods to grow coral up to 50x faster while strengthening their resiliency to climate change threats, while deploying a first-of-its-kind commercial model to support the large-scale restoration projects needed to counter global reef degradation.
After graduating from Yale College in 2012, Sam served as the Chief Operating Officer for ELI Africa, a Mauritius-based non-profit founded by classmate Vedant Seeam. There, he helped launch a coral-farming project in partnership with the Mauritius Oceanography Institute and with funding from the United Nations Development Programme Global Environment Facility. While attending Yale F&ES, Sam interned for the White House Council on Environmental Quality's Climate Preparedness team, served as a fellow for the Global Island Partnership (GLISPA), and analyzed the global security risks of climate change through the Studies in Grand Strategy program. Through his work at Coral Vita, he was named a Forbes 30 Under 30 Social Entrepreneur, accepted into Echoing Green, the JMK Innovation Prize, the Halcyon Incubator, and the Wild Gift Fellowship, recognized as one of twenty two 'Climate Trailblazers' by the 2018 Global Climate Action Summit, and invited by the United Nations General Assembly President to address a high level forum on financing the Sustainable Development Goals. Sam is an optimistic Washington DC sports fan, a laidback rugby player, and a PADI Rescue scuba diver.
Ben Young, Co-Founder, Hugo & Hoby
Ben Young (Yale SOM '16) is from Washington, D.C. and went to Swarthmore College where he studied economics and psychology. After graduating, Ben joined Teach for America where he taught high school math and coached varsity soccer and lacrosse for 5 years in West Philadelphia and Providence, RI. After teaching, Ben went to Yale SOM where he co-founded Hugo & Hoby during the first year of his MBA with his roommate and classmate, Frederick Kukelhaus (Yale SOM '16). Inspired by their grandfathers, Hugo Kukelhaus and Hoby Young, who were both designers, furniture makers, and environmentalists, Ben and Fred set out to make modern, locally crafted, and sustainable furnishings that would last a lifetime, and moreover a company that their grandfathers would be proud to be the inspiration of.
About Hugo & Hoby: Hugo & Hoby is a furniture design and fabrication company that partners with a network of East Coast fabrication shops, from DC to Maine, to make custom, sustainable, and locally crafted furniture more widely accessible for commercial clients such as restaurants, offices, hotels, universities, and developers. Hugo & Hoby is also a member of 1% For the Planet - donating 1% of revenues each year to environmental nonprofits - with a goal to replant 15K trees - this year alone.